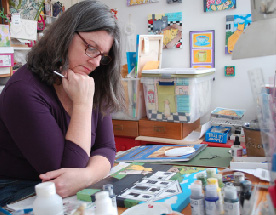 I am a self-taught artist living and working in Paxton, Mass. I've been drawing all my life, and for many years concentrated on pen & ink illustrations including commissioned house portraits. In 2001 I began experimenting with acrylics, inspired by the comical antics and effortless elegance of my two cats, PK and Nellie. From there, I developed a recognizable, whimsical style usually featuring bold color and cheerful subjects from everyday life. Whether it is animals, my surroundings here at home in New England, or scenes from daily life, I never fail to find inspiration.
My paintings, prints and other gift items are sold in the following communities.
Each store has a different selection. Call first to be sure they have what you are looking for. NOTE: The arrival of COVID-19 has caused some changes in who is carrying my products, and how (i.e. online vs. in-store). We appreciate your patience while we navigate this uncharted territory.

MASSACHUSETTS
Booklovers' Gourmet - 72 E. Main St., Webster
Dandelions - 34 Fruitland Rd., Barre
Elsie Kaye Glassworks - 3 Union Street #2, Westborough
Tatnuck Pet - 1102 Pleasant Street, Worcester
The Painted Stone Emporium - 320 Main Street (soon to be 453 Main St.), Sturbridge
Petersham Art Center - 8 N. Main Street, Petersham
Serendipity - 63B Main St., Hudson
NEW HAMPSHIRE
Mountainwind - 2053 Main St., Bethlehem