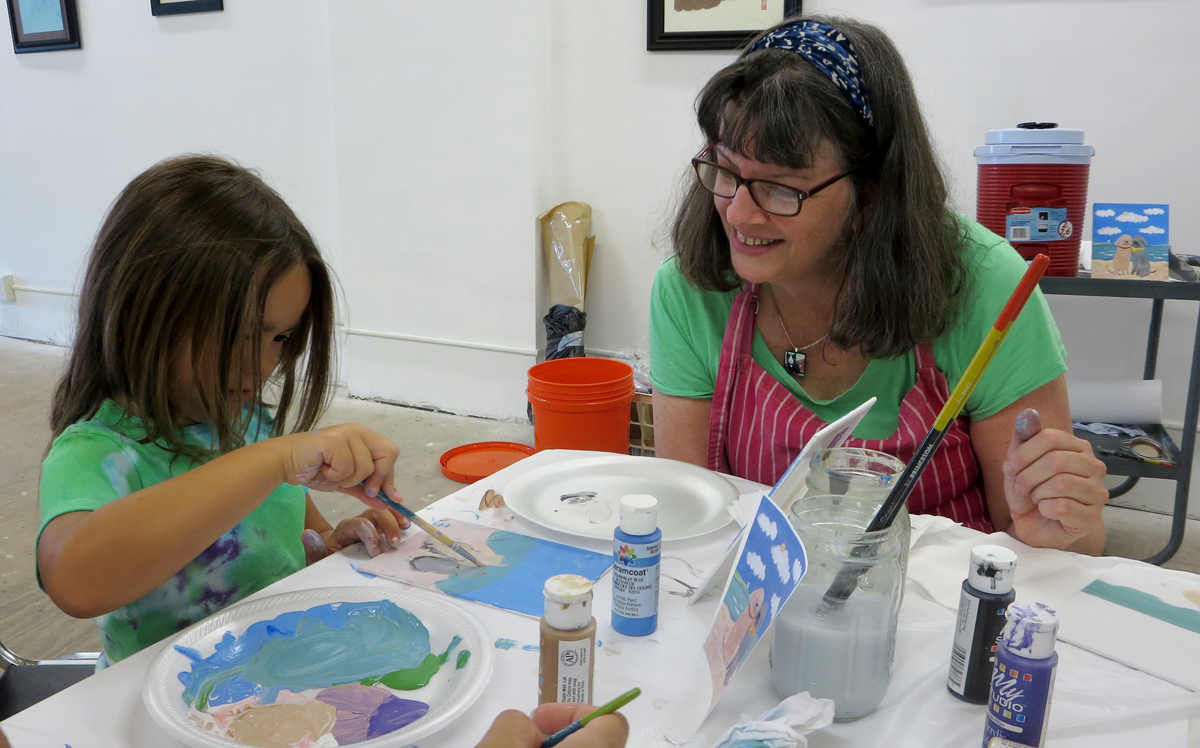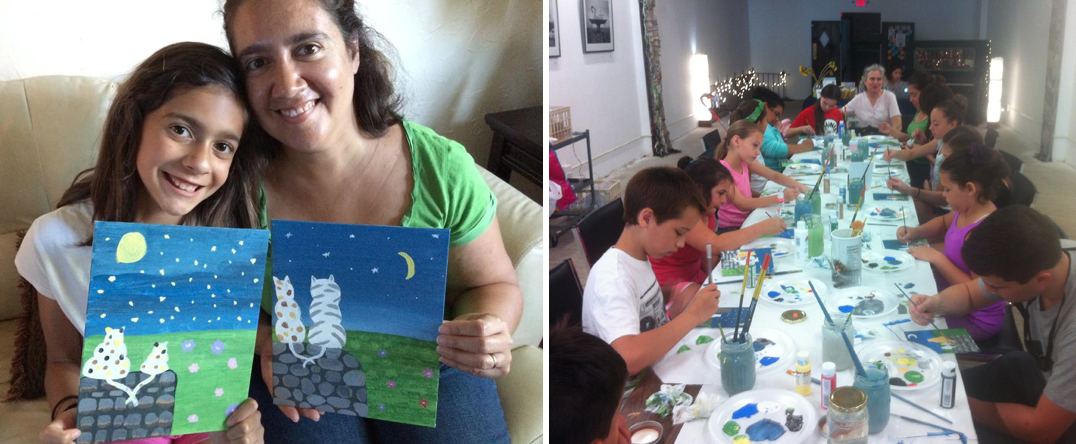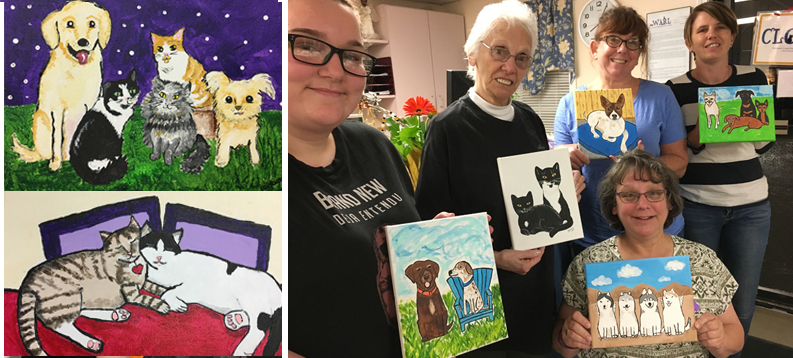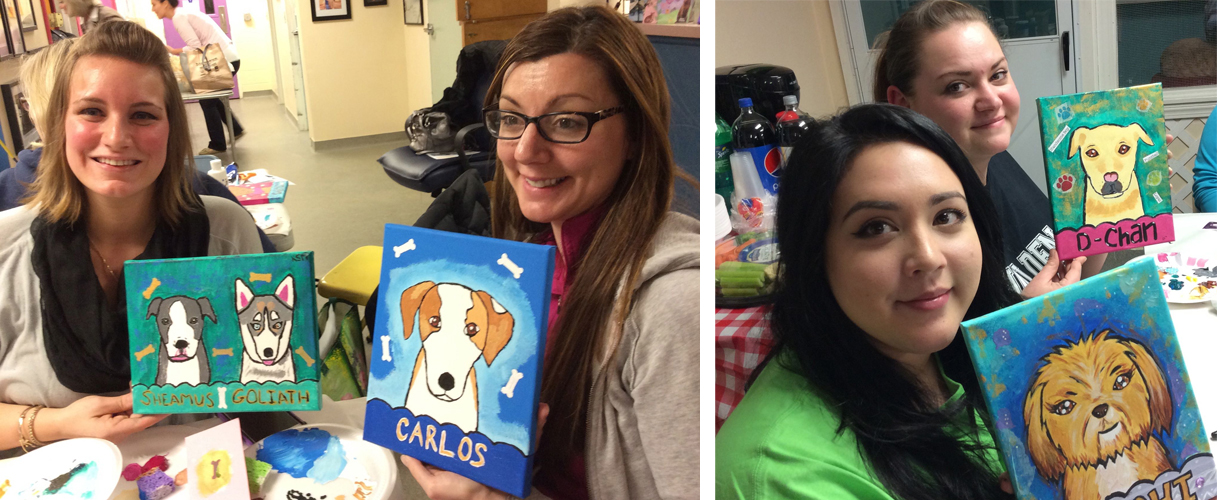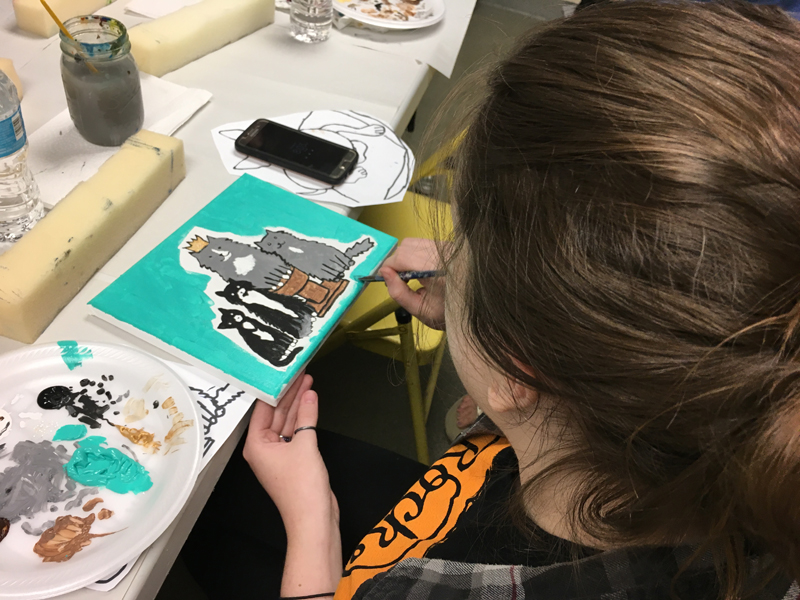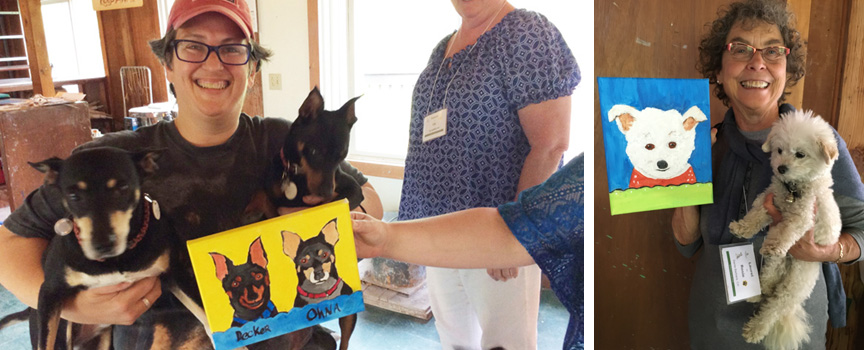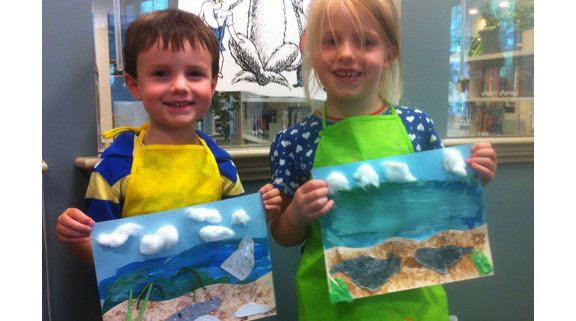 I'm often "out & about," whether leading paint party classes or library programs for children--and of course art fairs and festivals. My work with the community also includes grant-funded programs and public art. L: Aislinn Lewis, Rutland, Mass.  Children's Librarian, holds one of my laser-cut painted shapes; R: How they look on the wall.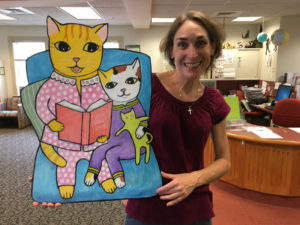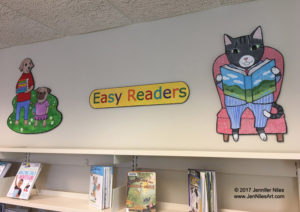 Painting Classes for Kids and Adults
No experience is needed! These are social times where adults, or children, gather and try their hand at painting together.
Some parties can include BYOB wine; at others we serve coffee tea and treats. For the novice or experienced painter alike, we have a good time!
A portion of the proceeds from some of my classes goes to support a local organization that's doing good work, whether for human beings or for our furry friends.
Email jen@jennilesart.com for more information about tailoring a class to your needs. All are held in Massachusetts, mostly Worcester/MetroWest, but sometimes farther away. 
2020 Event and Class Calendar
Sometimes I'm out & about doing a painting demonstration, running a "paint party" style class or doing library programs for local children--and of course art fairs and festivals. Right now (Spring of 2020), things are different due to coronavirus and the need for social distancing. Many of my events have been cancelled or postponed.
JANUARY 2020
FEBRUARY 2020
Library painting class for kids
Saturday, February 1 - 1 to 2:30 pm
Berlin Public Library
c/o Town Hall
Berlin, MA
MARCH 2020
APRIL 2020
Wachusett Meadow Sheep & Wool Festival - CANCELLED DUE TO COVID-19
instead, they had a VIRTUAL Sheep and Wool Festival!
Sat., April 18 - 1 to 4pm
Wachusett Meadow Wildlife Sanctuary
13 Goodnow Road
Princeton, MA
"Paint Your Pet" - Multi Pet Edition - CANCELLED DUE TO COVID-19
Thursday, April 23 - 6 to 8 pm
Paw Plaza
1 River Road
Sturbridge, MA
MAY 2020
JUNE 2020
Beacon Hill Art Walk
POSTPONED  to October 4 due to COVID19 
JULY 2020
Library painting class for kids - CANCELLED DUE TO COVID-19
Thursday, July 23 - 2 to 4pm
Leominster Public Library
30 West Street, Leominster, MA
AUGUST 2020
SEPTEMBER 2020
Private art workshops offered at Camp Unleashed
(tentative - awaiting decision)
Becket, MA
stART on the Street art festival - CANCELLED DUE TO COVID-19
Sunday, September 20, 2020 - 11am - 6pm (Rain Date: 9/27)
Park Avenue, Worcester, MA
(tentative)
OCTOBER 2020
Beacon Hill Art Walk
This is the new date (due to COVID19)
Sunday, October 4 - 12 to 6pm
Courtyards and alleyways of Beacon Hill
Boston, MA
NOVEMBER 2020
Paxton Fall Bazaar
(tentative - details TBD)
John Bauer Senior Activity Center
17 West St.
Paxton, MA
DECEMBER 2020
Selling my art at
Holiday in the Square
Framed in Tatnuck
Worcester, MA
(tentative)
---